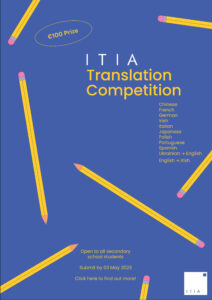 Congratulations to Sadhbh Clifford (6th year) who was the 2023 winner of the national Irish Translators' and Interpreters' Association's (ITIA) Translation Competition for Secondary School Students. She won in the category "translation from Spanish". 
Sadhbh has been invited to attend the national award ceremony in November at the Trinity Centre for Literary and Cultural Translation. Here, she will meet members of the ITIA Executive Committee and some others who will be attending a continuing professional development event "Starting Out as a Translator / Interpreter".  
Well done on your linguistic achievement, Sadhbh!