{password}
Ipad Pilot Programme
2016/2017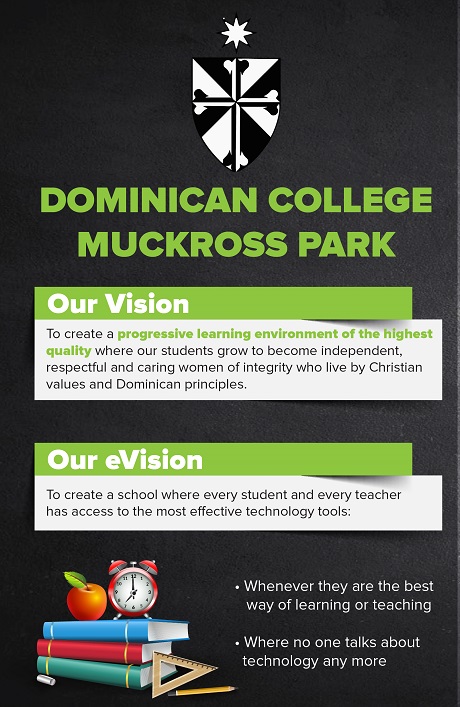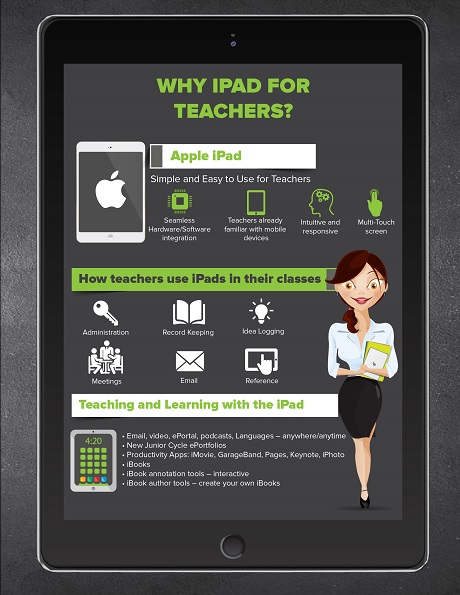 On this page you will find a number of resources and links to aid in the use of I.C.T. in the classroom in general and, more specifically, ideas that can be of use when using an iPad to enhance teaching and learning.
As part of our pilot programme, we would ask all teachers involved to engage with the course below and aim to complete it by 23rd Jan 2017:
Introduction to Tablets Course (Post Primary-online)
This is an interactive online course introducing you to the use of tablets in the post primary classroom. The course contains basic tablet tutorials to help you get started with your tablet, as well as video exemplars of teachers using this technology to support learning in post primary classrooms across a range of different subject areas.
| | |
| --- | --- |
| Duration | 2 hours |
| Skill Level | Basic |
| Sector | Post-primary |
| Type | Online |
| Target Audience | All (post primary) teachers |
| Prerequisites | Basic ICT skills. Participants should have experience of carrying out basic ICT tasks (opening, editing, saving, closing files) and be proficient in using an Internet browser. No prior experience of using a tablet is needed. |
Online course availability, requirements and access
All PDST Technology in Education online courses are hosted on TeacherCPD.ie. Please return to TeacherCPD.ie for information on available dates (see the Course Schedule). Enrolment links appear on TeacherCPD.ie once the course is open for enrolment (see the link labelled "PDST Technology in Education - Courses on ICT in Teaching and Learning. ENROL HERE").
Technical: To access and complete this course we strongly recommend the use of a laptop or desktop for a good user experience, along with a tablet (android, windows based or iPad) to review apps and complete activities. A good broadband connection is also required. Please ensure the latest version of Chrome, Firefox or Safari is installed on your device(s).
Course Content
The course consists of three modules, and includes the following:
An introduction to using tablets in the post primary classroom
Basic tablet tutorials (for Android, iPad and Windows devices)
Ideas for classroom implementation of tablets across a range of subject areas
Video examples of teachers using tablets in the classroom
Information on how tablets can support students with SEN
Accessibility information and guidelines
A wide range of apps and online resources for use with tablets in the classroom.
Learning Outcomes
Having completed this course, participants will be enabled to:
Use the basic tools and functions associated with most tablets
Use a tablet to support learning in their subject area
Explore apps and other online resources for use in their subject
Become familiar with accessibility features of tablets
Use a tablet to support students with special educational needs.
Link to good practice videos (PDST) Click HERE
Online Resources (from PDST)

---
Here is a list of some useful websites and apps which can be used to promote and develop whole-school numeracy capacity. Click here to download a PDF version of the lists.
http://pdst.ie/sites/default/files/PDST%20GRAPHIC%20ORGANISER%20ENG%20FINAL.pdf
A good selection of graphic organiser templates and suggestions for use. Useful for promoting problem solving strategies. Group work and AFL ideas also.
Useful problem solving exercises.
http://nrich.maths.org/frontpage
NRICH is a team of qualified teachers who are also practitioners in RICH mathematical thinking.
http://www.haveyougotmathseyes.com/
Real life applications of mathematics
http://seandelaney.com/2011/11/15/how-parents-can-help-their-child-learn...
Ideas from Dr. Sean Delaney on  how parents can best help their children with their mathematics
http://www.arcademicskillbuilders.com
Online educational video games
http://worksheets.theteachercorner.net
Word puzzles e.g. Why is a manhole cover round?
IXL is aligned to the Irish national curriculum.
http://www.mangahigh.com/en_gb/games
Short versions of free Maths games. Students can play full length versions for free if you create a school account and issue them with logins.
Resources for various strands available. Scroll down to grades 9-12 for second level resources.
Very good quizzes and tests against the clock.
http://www.mathplayground.com/geoboard.html
Interactive geoboard
http://www.theteachercorner.net/
A collection of educational worksheets, lesson plans, activities and resources for teachers and parents
Puzzles in language, logic and linguistics
http://www.jcspliteracy.ie/num_jcsp_resources.php:
Access to JCSP numeracy resources
Puzzles, games and worksheets
Useful resources for all subjects
Maths resources for teachers, parents and students.
Mathematical literacy tool
http://amathsdictionaryforkids.com/dictionary.html
An animated dictionary
Some other useful tools for teaching:
Below I have outlined 3 very useful tools for teaching. They are presented here in terms of ease of use, the first being the easiest leading up to the more challenging (although not that difficult!)
Padlet
Padlet (used to be called Wallwisher) is very easy to use. To get started simply go to padlet.com and click "build a wall." Then title your wall, choose a URL for your wall, enter your name and email, and start adding sticky notes to the wall. Sticky notes added to a Padlet wall can contain up to 160 characters of text plus links to images and videos. You can choose to make your wall private or public. If you choose the public option anyone can quickly add sticky notes to your wall. If you want to approve additions to the wall before they appear, that's an option too. Choosing the public settings is allows for the quickest set-up and use of Padlet as you only need to give students the URL of your wall in order for them to add notes to the wall. It is great for brainstorming ideas or collaborative work on a project.
Ideas for use in the classroom
· Create a plenary wall- many people would rather sit quietly and give an answer than speak out in class
· Collect ideas for exploration
· Examination of themes
· Posting homework- Parents can also see what their daughter should be doing
· Gather feedback from a wide audience
· Let students showcase their work
· Book reviews
· Students search for images (shapes…polygons etc.) and post back as 'stickies'
Prezi
Prezi is an internet based presentation tool that can be used to create, share and store zooming presentations. The major difference between it and powerpoint is that all of the presentation is kept to a single slide that you can zoom in and out of. It is much easier to blend dynamic content such as videos, podcasts and images than powerpoint and there are also a wealth of Prezis that have been created by others that they are willing to share for your own use in the classroom.
Click here for short instructional videos
Blogging:
One of the best internet tools you can use is a website for your class. Here you can post assignments, notes and presentations and contact your pupils automatically via email. The simplest form of website is a weblog or 'blog' that you can post information under various categories. The creation of a simple class blog takes a little bit of time but can be done quite easily following the instructional material provided.
For tips on getting started with Wordpress (a blogging tool) click HERE
New Junior Cycle Useful links (Taken from staff presentation August 2017)